MC for Events
Why use Mike and Lesley?
After many years of hosting Conferences, Conventions and functions, Mike and Lesley have developed their skills as Masters of Ceremonies to ensue your event receives the attention to detail it deserves. Preparation and timing are the two major essentials; add to this a smooth professional presentation with just a dash of humour and you have the ingredients of a successful event.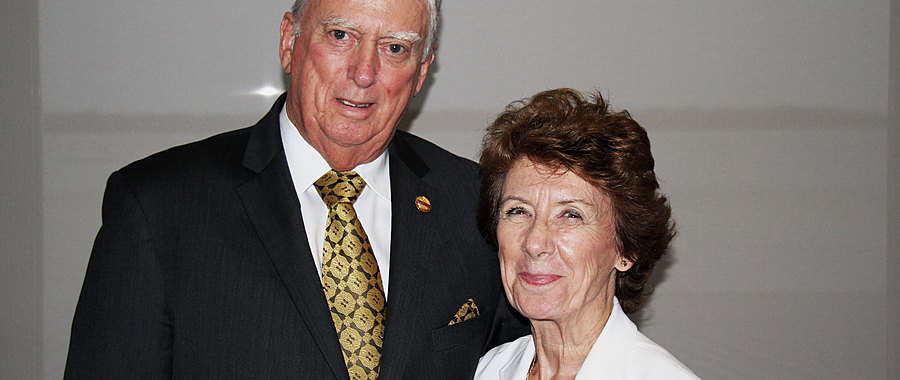 How often does a function fail to hit the mark because of a poor chairman or master of ceremonies?
Often after weeks of planning, organising a suitable venue, excellent catering and securing notable speakers, the event fails to live up to expectations. If it is an annual event the ability in attracting the guests back next year may be seriously jeopardised. If it was a once in a life time event the moment is lost. Why take the risk? Let Storkeys' Team be the Master of Ceremonies and make it an event to remember!
A Master of Ceremonies or event Chairman must have a thorough knowledge of the anticipated outcomes required. They must be able to ensure the smooth presentation of the programme, introduce guest speakers succinctly and accurately and above all run to time. The need to entertain the audience whilst preserving the integrity of the event is also of paramount importance. Skills in facilitation and handling any disturbances are also required in order to put the audience at ease. Quite a challenging list of requirements for the unwary but so satisfying when handled well. The difference between success and failure is often the MC.
"A brief note to say "WELL DONE", Lesley. What a pleasure to be able to sit back and enjoy watching an extremely capable and efficient chairman at work! An excellent Job! Thank you for your dedication and commitment."

---

Colin McFarlane
Past District 69 Governor Toastmasters International
Winner District International Speech Contest
"Mike was the Foundation President of the Whitsunday Chamber of Commerce and was instrumental in organizing the original committee. This was many years ago and Mike's expertise and leadership was the start of an organization that has grown from strength to strength. Over the years, Mike has been involved in chairmanship of various committees within the Chamber, and all of this has enabled him to pass onto others, the ability of organization and public speaking. Mike has moved on and about 6 or 8 years ago, was asked to join The Rotary Club of Airlie Beach. He has held many positions on the Board in that time, culminating in his being elected as President for 2009/2010.
Mike has maintained many leadership roles in the community and ably conveys to the members of the public, his ability in passing on his knowledge of dealing with people, leadership and general organizational skills.
I have great pleasure in touching on the abilities of Mike Storkey."

---

John W.Powell
Past President of The Rotary Club of Airlie Beach
Past President – Whitsunday Chamber of Commerce
Former Councillor – Shire of Whitsunday
Why take risks with the success of your event, call Storkeys' Team now and rest easy.